The world's only 'museum of sexual science'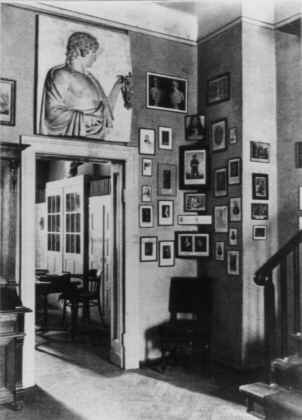 The Institute of Sexology had its own library, archive and collections. According to the physician Ludwig Levy-Lenz, who worked at the Institute, they had the 'largest collection of scientific sexual literature in the world', as well thousands of photographs, personal accounts and completed questionnaires relating to LGBTQ people.

According to Levy-Lenz, they also had the world's only 'museum of sexual science'. This included modern contraceptives, Japanese sex toys, paintings, and ancient artefacts. Hirschfeld was driven by wanting to document as many variations and varieties of gender and sexuality as possible. Collecting material from across the globe and throughout time was part of this mission. (Ludwig Levy-Lenz, The Memoirs of a Sexologist, 1954)
Image: Displays at the museum – Magnus Hirschfeld Society, Berlin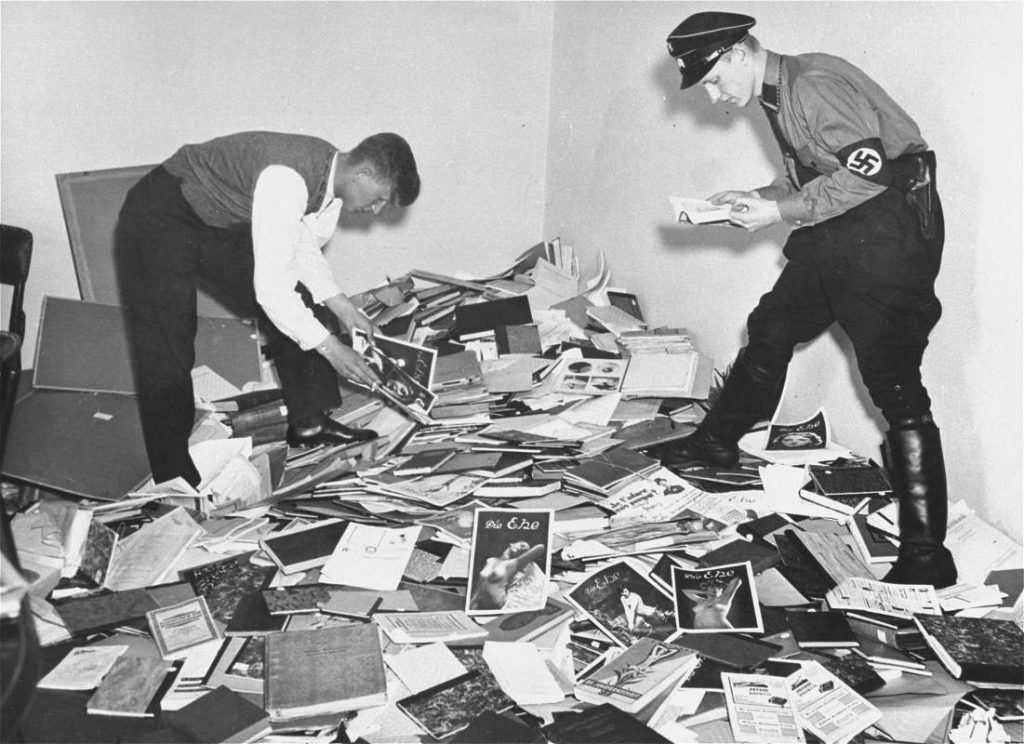 It is very difficult to establish what was in the collection as most items and records of them were destroyed by the Nazi Party in 1933. Researchers have painstakingly tried to piece together what was in the collections and have found the few remaining items scattered across the globe.
Image: Plundering of Institute 1933 – United States Holocaust Memorial Museum
The Wall of Sexual Intermediates
We know from photographs that one wall in the Institute was dedicated to images of people whom Hirschfeld labelled "sexual intermediate" types, showing a spectrum of gender diversity. These images often depict sets of pictures of the same person in differently gendered outfits and poses.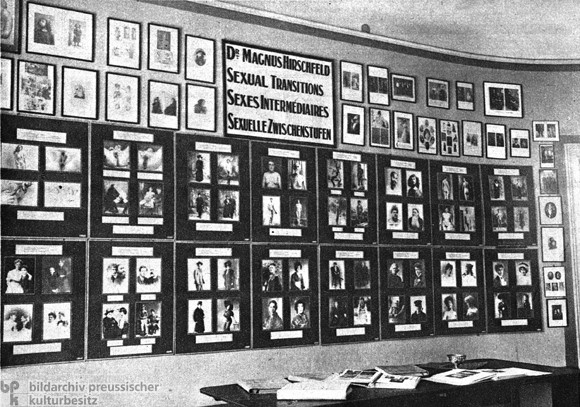 The American birth control reformer Margaret Sanger visited in 1920 and wrote:
"on the walls of the stairway there were pictures of homosexual men decked out as women in hats, earrings and feminine make-up; also women in men's clothing and toppers […]".

(Margaret Sanger, An Autobiography, 1938)
The huge variety of objects in the collection included a display of miniature boots, titled "The Fetishism of Custom- Made Boots". The donor wrote:
"I took the pleasure of creating this collection for myself because I feel passionately about high boots, and I see in this footwear a piece of art and aesthetics…"

(The Fetishism of Custom- Made Boots)
Other objects included ancient Roman and Egyptian 'phalluses' (representations of the penis). In 1930 Hirschfeld fled the Nazi regime and toured the world searching for artefacts from "fertility cults" in Japan, China, the Philippines, India, Egypt and Palestine. Hirschfeld, and these objects, never made it back to Berlin: being Jewish and openly gay he was unable to return to Nazi occupied Germany and eventually settled in France.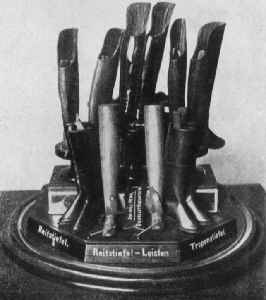 A Trans History Collection?
We don't know what historical images and objects Hirschfeld collected in his effort to prove the existence of gender diverse people. We know he was interested in historical trans figures like 18th century trans person, the Chevalier d'Eon.
Engaging and Educating the Public
The archives, library and museum were used as part of Hirschfeld's aim to make the public more accepting of queer and trans people. By the late 1920s tours of the Institute had become a popular attraction in Berlin. As well as seeing the artefacts and images and attending lectures, the staff gave visitors the opportunity to meet their LGBTQ clients and residents. It is important to ask the extent to which the Institute was encouraging public voyeurism, as well as playing an important educational role.
Classifying Objects and People
Visitors noted the blurred line between the people and the collections at the institute, both of which were objects of study and classification for Hirschfeld.
"Like the young man with female breasts and everyone else who entered the domain of the Institute, Christopher had automatically become a museum specimen, subject to Hirschfeld's diagnosis and classification… He could never join the ranks of Karl's [Giese] friends and play at nicey-nice third-sexism, because he refused utterly to think of himself as a queen. Wystan [H. Auden] was much more mature than Christopher, in this respect. Labels didn't scare him".

(Christopher Isherwood, Christopher and His Friends, 1976)