Social Spaces Beyond the Institute: The Eldorado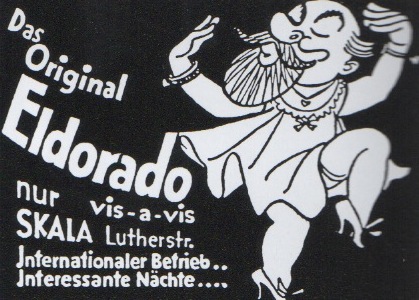 Between 1900 and 1930, dozens of bars, clubs and dance halls in Berlin offered LGBTQ people spaces to socialise, dance, drink and enjoy cabaret and drag performances. Some of the most famous venues were the "Eldorado", "Mikado", "Dorian Gray", "Toppkeller" and "Monokel".
The people who ran these venues used images and code words, such as "mondän" (the German world for "worldly" or "sophisticated"), to reach LGBTQ people.
The enormously popular cabaret song "Das Lila Lied" ("The Lavender Song"), written in 1920, was dedicated to Hirschfeld. It is often described as the first LGBTQ anthem.
"We are just different from the others 
who have loved only in the lockstep of morality […] 
and who are only up to the banal. 
[W]e […] are all children of a different kind of world; 
we only love the lavender night, which is sultry, 
because we are just different from the others!"

"Das Lila Lied", 1920
Hirschfeld frequented bars and clubs himself. He wrote a popular city guide called Berlin's Third Sex (1904), which offered an introduction to Berlin's queer and trans night life. The book was an ethnographic study, but it also helped interested people to locate LGBTQ-friendly spaces in Berlin. Hirschfeld was known as "Tante Magnesia" (Aunt Magnesia), and there were rumours that he might have appeared in drag himself. 
Harry Benjamin, who would become one of the most influential sexologists to work with trans patients in the 1960s and 1970s, regularly visited Hirschfeld in Berlin. After working in the Institute, they went clubbing together at the "Eldorado".
"I also met Magnus Hirschfeld very early on […] around 1907. They [Hirschfeld and another friend] repeatedly took me along on their rounds through the homosexual bars in Berlin. I especially remember the 'Eldorado' with its drag shows, where also many of the customers appeared in the clothing of the other sex. The word 'transvestite' had not yet been invented. Hirschfeld coined it only in 1910 in his well-known study."  

Harry Benjamin, Interview 1985
There was more than one Eldorado in Berlin. In the 1920s, businessman Ludwig Konjetschni ran three clubs, all called Eldorado. These clubs were famous for their drag shows. There were also "taxi dancers" – you could buy a ticket to dance with people who were assigned male at birth and dressed in conventionally feminine clothing.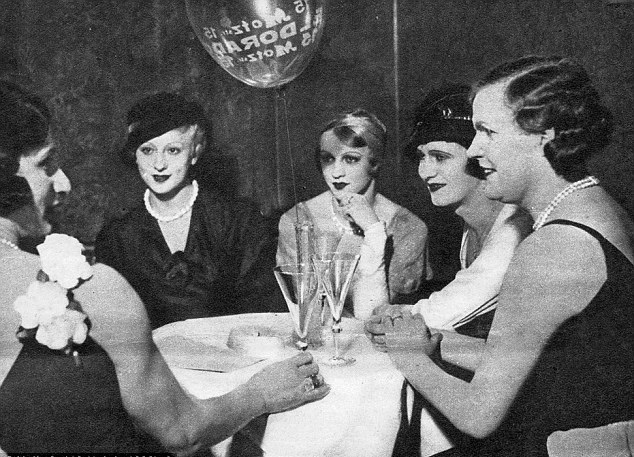 In 1926, popular performer Hansi Sturm was awarded the title "Miss Eldorado". They were famous for ending their drag act by taking off their breasts and throwing them at the orchestra.
The term "transvestite"  (coined by Hirschfeld) was often used to describe people who visited or performed at the Eldorado. We don't know whether people were comfortable with this term, how they identified and which labels they might use today.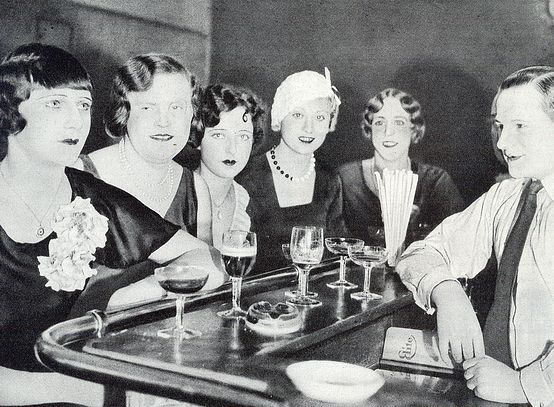 Clubs like the Eldorado offered queer and trans people spaces to meet and socialise with other members of the LGBTQ community. However, these venues were also enormously popular with straight cis tourists who wanted to catch a glimpse of LGBTQ life. To make more money, some club owners began to cater specifically to straight and cis audiences.
"In the West End [of Berlin] there were also dens of pseudo-vice catering to heterosexual tourists. Here screaming boys in drag and monocle, Eton-cropped girls in dinner jackets play-acted the high jinks of Sodom and Gomorrah, horrifying the onlookers and reassuring them that Berlin was still the most decadent city in Europe."  

Christopher Isherwood, Christopher and His Friends, 1976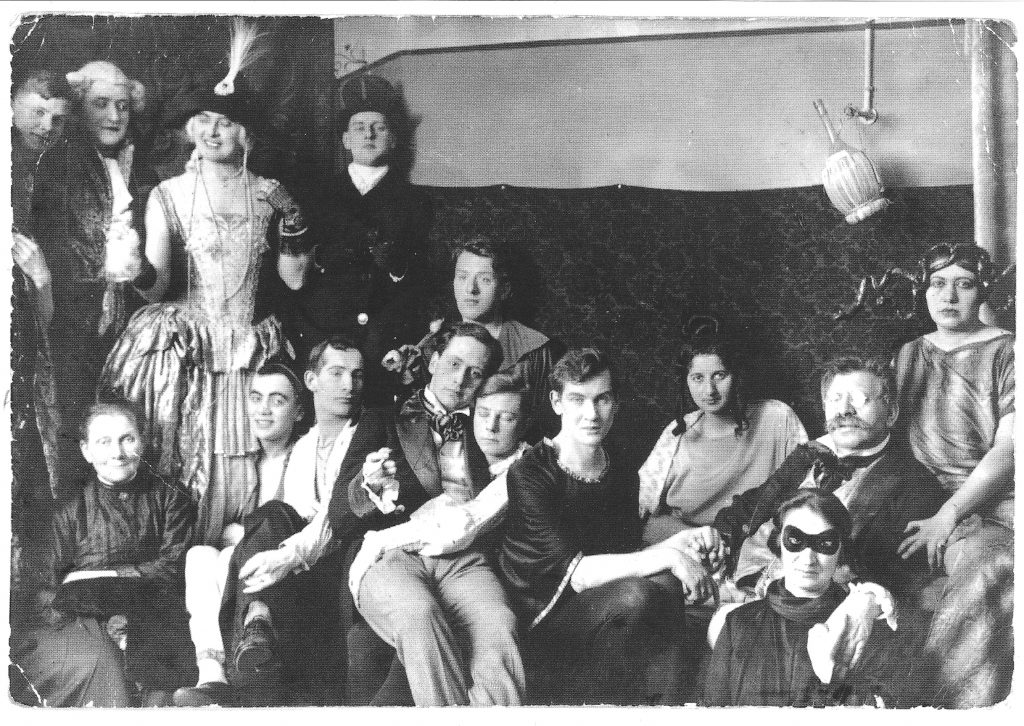 "It's all staged, and only completely naïve people think it's real. Even the real transvestites who place their abnormality in the service of business become actors here.

Curt Moreck, Ein Führer Durch Das Lasterhafte Berlin, 1931
In 1932, due to changes in government and the rise of Nazi power, Berlin's LGBTQ spaces were increasingly targeted and policed by authorities. A ban on same-sex couples dancing in public was imposed and many venues, including the Eldorado, were shut down.