A MEDIEVAL SOAP OPERA
The story of Clarinde and Blanchandrin(e) is taken from a Mid 14th century French "Chanson de Geste". These chansons were epic poems of heroic deeds.
Clarinde and Blanchandrin(e) is a subplot in the chronicle of Tristan de Nanteuil. It is a love story that features queer desire, heartache, disguises, homo and lesbo passion and finally a miraculous gender transformation and the birth of a saint for a truly trans happy ever after.
For an updated queer poetic spin, we invited poet, performer and all round peach Mud Howard to retell the tale.
"It meant the world to me to re-write this story of gender, war, self, transformation, and love. I first read the original piece while I was in the balmy heat of LA, in a stranger's bed, in the throws of a road trip to get back to myself again. I was shocked, thought it might be the heat, had to re-read the era. This was from 14th-century France. Somehow, it made me feel less alone to know that despite what they try to tell us, throughout the vaults of history, people like me existed. There are many stories on the historical record about gender: its complexities, mysteries, and morphings. But there was something so straightforward and hypnotic about this one– the final reveal of the main character's true sex and gender strikes happiness that couldn't be rivaled if one received thirty kingdoms! Let's settle for nothing less in our relationships to our bodies, ourselves, and others. Thirty kingdoms."

Mud Howard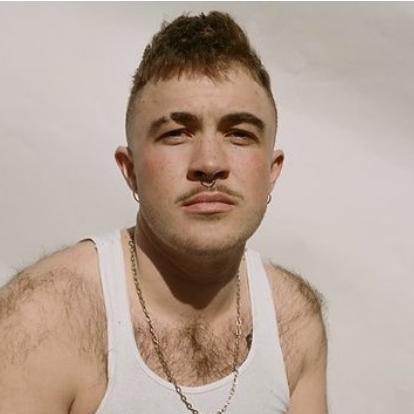 Mud Howard is a non-binary trans writer, performer, and activist from the states. Mud creates work that explores the intimacy and isolation between queer and trans bodies. They are working on a novel entitled stonefruit filled with lies and magic and following their dreams of making perfume.
@transexualdreamboat
References:
Blake Gutt, 'Transgender Genealogy in Tristan de Nanteuil', Exemplaria 30 (2), 129-146 (2018). DOI: 10.1080/10412573.2018.1453652
Victoria Turner, 'Performing the Self, Performing the Other: gender and racial identity construction in the Nanteuil Cycle', Women's History Review 22 (2), 182-196 (2013). https://doi.org/10.1080/09612025.2012.726109